Current lead time*: 14 days
game changing drop in upgrade
The perfect upgrade for any gun, to increase accuracy, range and consistency of each shot fired. Out range anyone else on the field with incredible range and accuracy despite FPS.
Our handmade R-Hop has been an integral modification we perform for all our builds as users can experience 30% increased effective range over non R-Hopped barrels.
For absolute peace of mind, we promise this barrel will hold up as long as it is cleaned often and installed correctly. Lifetime guarantee.
Selecting the full set to include our flat-hopped bucking and flat-arm modified hop up unit for easy installation.
increased accuracy, precision, experience, potential
Accuracy is the single most deciding factor in any Airsoft engagement. Extended range can render you unreachable, and heavy weight BBs punch through wind and other environmental factors.
We have perfected the R-Hop modification through our engineers constant development and experience of R-Hopping thousands of barrels. We promise our customers complete satisfaction. Customers can simply send back the barrel for a complete refund if they are not satisfied.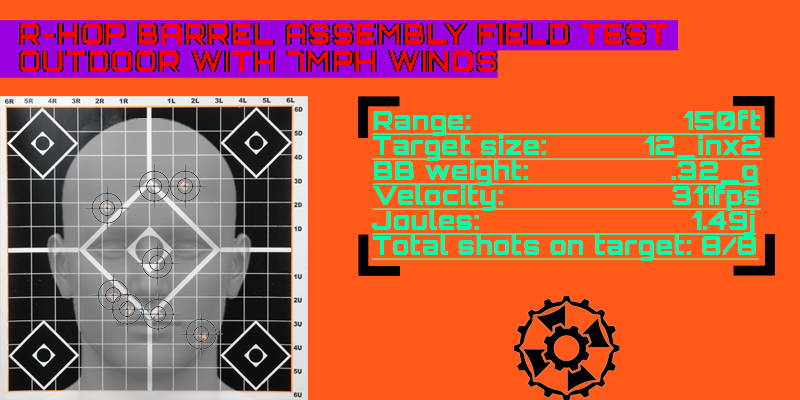 ASSEMBLY/MODIFICATIONS REQUIRED
Selecting a barrel length that says "Barrel Only" will only include the Prometheus EG barrel in your selected length with our installed R-Hop patch as this is the base configuration. You will need a flattened/flat-hop bucking and M-nub/flat-arm modified hop up unit to use this barrel.
Selecting a barrel length that says "Barrel + Flat-Hopped Bucking + M-Nubbed Hop up unit" will include:
-The Prometheus EG barrel in your selected length with our installed R-Hop patch.
-Madbull blue bucking that has been flat-hopped modified to work with the R-Hop barrel.
-Pro-win M4 style hop up unit with our compatible flat arm and upgraded C-Clip.
-Stabilizer/Airseal O-Rings to seat the chamber securely in your receiver/outer barrel.
-Additional smaller O-Rings. If your barrel is a Krytac edition, EMG edition, or G&G edition length, you will receive smaller O-Rings that you can optionally use to slot in the ridges at the end of the barrel for additional stabilization. You will need to experiment with different positions to fit. as this is the base configuration. Standard length options will not include these.
This will be fully assembled by our technicians so you can easily drop the set into your M4 style/compatible AEG within minutes.
"Will this work in my x?"
If selecting the full set; your assembly should work in most M4 style AEG receivers that are compatible with the standard Tokyo Marui M4 single piece Hop up chamber design.
Models that use two piece hop up units are not compatible with the full set.
ICS models are not compatible with the full set.
KWA models are not compatible with the full set.
Wolverine MTWs are not compatible with the full set.

This is not a conclusive list as there are thousands of options on the market. If this assembly is not compatible, email our customer support to receive instructions on getting a full refund/exchange.
Otherwise, you may purchase the barrel by itself as well as our flat hopped bucking and one of our custom made flat arms to easily convert your hop up unit to be compatible with our R-hop barrel.
For complete R-Hop Assembly Packages:
We will send rubber O-Rings with all our barrel assemblies to replace spring spacers most Airsoft guns use. These O-Rings provide much better support and add increased accuracy, air seal, and overall alignment. It varies on how many O-Rings are needed as it is different across different guns, but for reference: stock Krytacs and VFCs use 3 O-Rings while other brands may need more or less. To find out how many you need, make sure to remove any barrel assembly springs from your gun and try installing as many O-Rings as you can while also being able to put your receiver together. It should not have to require too much strength however what we are looking for is after the barrel is installed and gun is reassembled, you should not be able to have any play/movement with the hop up unit when trying to move it inside your magazine well. After successful installation, there is a break in period of roughly 5000 rounds so you may experience some inaccuracy issues.
For further instructions or support please visit: https://docs.google.com/document/d/1DFVj3fDbhagp4VE0K17fiJXoX9sCfKqi-9iv75fWb7Q/edit?usp=sharing
For standalone R-Hop Barrels:
We highly suggest that with our R-Hop barrels, users use a flat hop bucking and M-Nub modified hop up unit (or Maxxpro unit). You can find support online for these items, or modifying your current bucking and hop up unit. We offer flat hopped Madbull blue buckings and different hop up arms that should make our R-Hop barrels compatible with other AEG hop up units.
"Is there a break-in period?"
We advise shooting 5000 as when you should notice optimal results.
"Is there any special maintenance instructions?"
Please clean your barrel with an unjamming rod and a dry piece of microfiber cloth after every 3000 rounds or so. Absolutely NO silicone oil, grease, water, liquids of any kind. Also no need to disassemble your hop up unit or remove the inner barrel from your hop up unit.
If you notice any issues, please email us so we can advise before you disassemble the barrel assembly.
"What weight BB's should I use?"
Most guns will need at least .28g BBs before you start seeing the R-Hop advantage take affect.
AEGs that shoot between 350FPS - 410FPS (with .2g BBs) will see the best results with .32g BBs. Using heavier weights will always be the better choice with R-Hop barrel assemblies. With our complete sets you can be able to run as low as .2g BBs with your gun but you may need to use barely any hop up engagement (turned down).
We advise using high quality Bio-friendly BBs to be environmentally conscious. Experiment with different weight BBs while you break in your barrel to find a weight that is perfect for your set up.
---
---